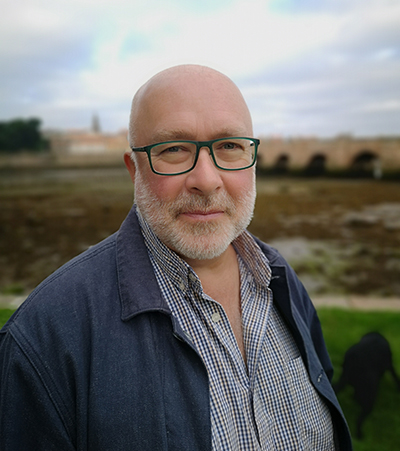 ...'sexy' and 'well informed'
Ned Rorem on Paul RW Jackson from his book Lies: A Diary 1986-1999
Counterpoint Press (Oct. 2000)
Since taking early retirement and re-establishing himself in North Northumberland, Paul R W Jackson has become the Chair of Trustees of the Berwick & District Cancer Support Group and governor of Northumbria Healthcare Trust. He has been a Councillor for Berwick-upon-Tweed District Council, Magdalene Ward and Deputy Mayor of Berwick-upon-Tweed before stepping down on these roles.
He was formerly Reader in Choreography and Dance at The University of Winchester, Hampshire in England, having worked professionally in the dance and music professions for over 35 years.  He is a past Chair of the Standing Conference on Dance in Higher Education (SCODHE), now Dance H.E., the umbrella organization for British university dance departments.  He has been Head of Music at Northumbria University where he also founded and ran both of the dance degree programmes, having worked previously at the Arts Educational Schools (ArtsEd), Islington Arts Factory, Central School of Ballet and the CFPD in Poitiers, France.
Paul holds a BA Hons in Performing Arts from Middlesex University and a 'Master of Music with emphasis in Dance' from the University of Nevada, Las Vegas. His teachers in dance have included Viola Farber, Erick Hawkins, Lonny Gordon, Kazuko Hirabayashi, Alfredo Corvino and Walter Nicks, and in music John Cage and Sir Malcolm Arnold.
As a dancer Paul has performed with companies including; Gordon Dance, Gravity, Nonesuch and Artlink and has created roles in dances by artists as varied as Rudy Perez, Lonny Gordon, Gus Solomon Jr and Walter Nicks.  He has choreographed over 35 works which have been performed in the UK Europe and the USA.  He was also a member of the education teams of London Contemporary Dance Theatre, Extemporary Dance Theatre and Ballet Rambert.  As a pianist he has worked with the Nevada Symphony Orchestra and as an accompanist to most of the major figures in dance including; Martha Graham, Robert Cohan, Merce Cunningham, Siobahn Davies,Viola Farber, Richard Alston etc.
He has written extensively on dance and and music and in 1997 was awarded the Chris de Marigny Dance Writers Award, and was a regular contributor to Dance Now.  He is the biographer of two of the leading figures in 20th century art, Oscar winning composer Sir Malcolm Arnold  and the founding father of British contemporary dance Sir Robert Cohan with whom he has worked closely for the last 10 years.
Paul founded the 'Malcolm Arnold Society' and is the leading authority on his music.  His book 'The Life and Music of Sir Malcolm Arnold: The Brilliant and the Dark', formed the basis for Tony Palmer's film "Towards the Unknown Region: Sir Malcolm Arnold - a Story of Survival", commissioned by The South Bank Show.
Paul is currently working on a revised edition of his Sir Malcolm Arnold biography as well as a collected edition of his writings on British ballet music, which his publisher, Dance Books, is very keen for him to finish (watch this space) !!
He is a member of the board of BalletLorent, and from 2012-17 was an Artistic Assessor for Dance and Music for Arts Council England.
Paul is available for mentoring, occasional lecturing, committee work and public interviews