'Sir Arthur Bliss, Music and Literature'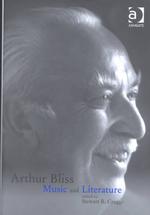 'An American interlude'
Date published: December 2002
ISBN: 978-1-85928-319-6
Editor: Stewart R. Craggs
Contributer: Paul R.W. Jackson. Chapter - 'An American Interlude'
Published by Ashgate
Arthur Bliss (1891-1975) was appointed Master of the Queen's Music in 1953 and remained an important and prominent figure in British music throughout his career. This volume of nine essays explores various aspects of Bliss's output which was wide-ranging.
The collection opens with a personal recollection of the composer by John Amis, followed by a survey of Bliss's orchestral music by Robert Meikle which explores aspects of his style and the influence of composers such as Elgar and Stravinsky on his music.
Two essays by Roderick Dunnett feature in the volume. The first provides a detailed account of Bliss's collaboration with J.B.Priestly on the opera The Olympians. The second charts the composer's work with playwright and librettist Christopher Hassall on such works as the ballet The Lady of Shallot and the TV opera Tobias and the Angel. A very different sort of collaboration is described by Byran Crimp in his analysis of the piano concerto in B flat written in close association with the virtuoso pianist Solomon.
Turning back to the literary content of Bliss's work, Alan Cuckston gives a comprehensive survey of the songs. Seven American Poems are among the works discussed by Paul Jackson in his chapter on Bliss's time spend in the United States of America.
The music for the film Things to Come is among some of Bliss's best known work. A full survey of his music for feature films is provided by Stephen Lloyd, while Lewis Foreman examines Bliss's work for the BBC where he was an advisor during the 1930s and 1940s. Bliss recorded some of his own music for broadcast by the BBC, and these and other recordings are discussed by Lyndon Jenkins in an essay that treats of Bliss's important career as a conductor.
A very private person, Bliss declared shortly before his death that "whoever wants to know the real me must listen my music". The essays in this volume provide insights into both the music and the man.
---
Review

'This is an enormously entertaining book... Each chapter is thoroughly researched with careful detail that is impressive... There is lots of interesting material here.'The Delian Source: Ashgate