'The Life and Music of Sir Malcolm Arnold - The Brilliant and the Dark'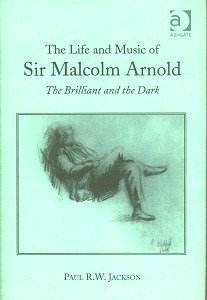 ' The Life and Music of Sir Malcolm Arnold ~ The Brilliant and the Dark '
Date published: February 2003
ISBN: 978-1-85928-381-3
Author: Paul R.W. Jackson
Published by Ashgate 
ISBN: 978-1-85928-381-3 : February 2003
' "All of my music is biographical" declared Sir Malcolm Arnold in an interview in 1991. Arnold's turbulent life has permeated his music to a greater degree than probably any other British composer as Paul Jackson reveals in this illuminating account. Interweaving biographical details with close analyses of Arnold's major works, particularly the nine symphonies, and drawing on sketch materials never previously examined, Jackson provides fascinating insights into Arnold's compositional process, and the ideas informing works such as the John Field Fantasy and the 7th Symphony. Extensive interviews with Arnold himself as well as with his family, friends and colleagues add further perspectives on his relationships with fellow composers and musicians, publishers, critics and family. A combination of joie de vivre and periods of depression and personal tragedy, Arnold's life has mirrored his music in its combination of seemingly disparate elements that make a compelling whole. '
---
Foreword
' Writing in his 1979 survey of British music Peter J. Pirie apropos Malcolm Arnold had this to say, 'If he had not existed it might have been necessary to invent him', in that sentence one can detect the exasperation the nuns in The Sound of Music voice in 'How do you solve a problem like Maria'. And exasperation is something that most of the critical establishment in Britain have felt towards Arnold at sometime or another, even from the early 50's when he burst on the scene with works such as, the English Dances and the 2nd Symphony, and he was seen as the most promising of the generation of composers younger than Britten, the critics have no known quite what to make of him. The more acuminous ones realised that his 'compositional skill is the equal of some of the greatest composers of the twentieth century', while others tried to paint him as an idiot savant, who because he did not flaunt them, knew nothing of the 'developments' in 20th century music.
That he did know the techniques of 20th century music is apparent to anyone taking more than a superficial look at any of his music, but for him the technique is hidden, it is not the concern of the public how a work has been constructed. Where some composers are happy, like some conceptual artist, to write a pamphlet, or have some apologist write one for them, to explain their music, Arnold's does not need it, for him, writing from within the mainstream of the European symphonic tradition, music is 'an act of social communication, the strongest there is'. He writes music to express what he cannot say in words.
Why then have I written a book on Malcolm Arnold's life and music. Mainly I think because his life has had such a strong bearing on his music, and so little is known about it. He himself has said 'all of my music is biographical', and taking that as my starting point, what I have tried to do in this book is place his music within the context of his personal life and to look at some of his compositions, in particular the 9 symphonies, to see just how he sets about communicating.
I must stress here, if it needs saying, that these are my views, this is in no sense the authorised version. Although Sir Malcolm, his family, colleagues, and friends have been generous in answering my questions the conclusions are my own. '
---
Authors' Acknowledgements
' In practical terms I probably started writing this book three years ago, though I have probably been researching it since I first heard a piece of music that I could identify as by Malcolm Arnold over thirty years ago. In that time I have been collecting recordings, cuttings and information that have all been useful in writing this volume. In more recent times the book came about when Trudy Bliss suggested I write an article for inclusion in a volume on her late husband, Sir Arthur Bliss, and introduced me to Stewart Craggs who was editing that volume. He was at the time beginning work on a bibliography of Arnold's music, now published and totally invaluable, and he suggested I conduct the present publishers. To these two I must give special thanks , to Trudy for her continued support and inspiration, and to Stewart for his invaluable help in proof reading and preparing the index.
In the three years I have been working on this book many people, some sadly now dead, have given generously of their time and memories. First and foremost must be Sir Malcolm, and Anthony Day who have answered questions which some of the time must have made them feel as though they were under the inquisition. Sir Malcolm's family, his children Katherine and Robert, and nephew Robin and niece Penny, who have answered what sometimes were very difficult questions. Other colleagues and friends who over the years gave of their time have included: Richard Adeney, Lord Attenborough, Sir Richard Rodney Bennett, William Blezzard, Dennis Bloodworth, Charles Brodie, Betty Coleman, Lady Groves, Annetta Hoffnung, Joseph Horowitz, Georgina Ivor the late Wilfred Josephs, Keith Llewellyn, Emrys Lloyd - Roberts, the late Lord Menuhin, Donald Mitchell, Dorothy Morris, the late Archie Newman, Alan Poulton, the late Leonard Salzedo, Phyllis Sellick, Ned Sherrin.
Of the associates of and institutions who have helped I must mention: Fiona Southey of Novello's whose dedication to Sir Malcolm and his music is without equal, Tim Eggington of the Royal College of Music Library, Sally Willison of Alfred Lengnick and Co.
I should also thank the University of Northumbria at Newcastle who supported the project with two research grants, Professor Gerda Roper, and Sharon Patterson for their help and encouragement and to Scott Burdon for typing and transcribing.
Finally I would like to thank Nathan Sankar and Sue Bedigan for keeping me here. '
---
Speech for Degree Ceremony HONORARY AWARDS
COMMITTEE 2003

Sir Malcolm Arnold
University College Winchester
Paul Jackson
Many of you sitting here today may not have recognised the name of Sir Malcolm Arnold, but all of you will have heard some of his music. As the composer of the scores for some of the most popular films of the 20th century his sound world is familiar even if the name is not. Bridge on the River Kwai won him an Oscar, Inn of the Sixth Happiness his first Ivor Novello Award, the Saint Trinian's films did not win him an award but brought a smile to face of all who heard it. Smiling or indeed enjoyment is not something normally associated with classical music of the late twentieth century but for Sir Malcolm, music is a 'social act of communication among people, a gesture of friendship, the strongest there is'. And his music has been communicating, making us laugh and cry since 1940.
Sir Malcolm was born in Northampton on 21 October 1921, the son of wealthy shoemakers. An early encounter with Louis Armstrong led him to take up the trumpet. It was this instrument, along with composition, that he studied at the Royal College of Music, where he was famously reprimanded by the Principal for placing dead fish in the pipes of the organ. He joined the London Philharmonic Orchestra, becoming its youngest principal trumpet in 1942. In 1948, he won the Mendelssohn Scholarship and left the orchestra to spend a year in Italy. There by his own admission he spent more time imbibing the local wine than any formal study, but it was good to get away from post war London
On his return, with his creative battery recharged, he quickly built up a reputation as a fluent and versatile composer and a brilliant orchestrator, receiving numerous prestigious commissions, including the Coronation ballet 'Homage to the Queen'. Since then, he has written music of every type and for every sort of ensemble; for professionals and amateurs; for theatre, concert hall and film. His concern that he should useful, has brought him into contact with many organisations. He founded with Dame Ruth Railton the National Youth Orchestra, and has written music for many youth and community groups. And as well as composing he has been active on behalf of his fellow musicians working on the Composers Guild and Performing Rights Society.
Arnold's music springs directly from roots in dance and song. And it is no coincidence that his most popular works are the sets of English, Scottish, Cornish, Welsh and Irish dances. Such is their popularity that they were the only works by a living composer to be played at the Prom at the Palace to celebrate the Queens Golden Jubilee. Typically, his music is lucid in texture and clear in draughtsmanship. His lighter entertainment pieces, easy to listen to and rewarding to perform, are among the rare latter-day equivalents of 18th-century serenades and divertimenti. As an inventor of tunes, his powers seem to be inexhaustible, and he is prodigal with his gifts. The "big tune" in the surreal, Grand Grand Overture for 3 floor polishers, vacuum cleaner, rifles and orchestra, for example, is just as much a winner as the many memorable themes in his symphonies.
For those who are able to look at more than surface detail, his works show a complex musical personality with dramatic tensions not far below the music's seductive surface. In fact, there is a scope in Arnold's music which reflects his profound concern with the human predicament . The 4th Symphony with its battery of Carribean percussion was his response to the Notting Hill Race Riots of 1959. The Peterloo Overture celebrated the 100th Anniversary of the TUC in 1969. As the conductor of Deep Purple's Concerto for Group and Orchestra, he pioneered the cross over between the popular and the classical long before it became the norm.
That willingness to build bridges rather than burn them meant that he suffered at the hands of the critics, who saw themselves as the guardians of a music that was high art, and exclusive. But his music has stood the test of time and many of his works are now firmly established in the concert repertory. And he is the envy of his fellow composers in that there is more of his music available on record than of any of his contemporaries.
Sir Malcolm maybe the envy of his peers but he is held in esteem also, as was demonstrated in 2001 when he became only the third Fellow of the British Academy of Songwriters and Composers, joining the company of Sir Paul McCartney and John Barry. Ill health has unfortunately stopped him from being here today, but we are pleased to have James Rushton, Managing Director of Novello's, to accept this honorary degree of Doctor of Music on his behalf.
Paul founded the 'Malcolm Arnold Society' and is the leading authority on his music.
His book, 'The Life and Music of Sir Malcolm Arnold: The Brilliant and the Dark', was the basis for Tony Palmer's film "Towards the Unknown Region: Sir Malcolm Arnold - a Story of Survival", and in which Paul appeared and contributed towards. The film was commissioned by The South Bank Show and received its World Premiere 20th September 2004 at the Royal Festival Hall, London, UK.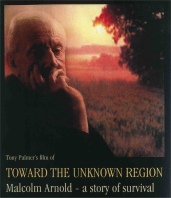 Screened as a two part documentary on the South Bank Show
Sunday 26th September 2004, concluded Sunday 3rd October 2004.

Choice Magazine (November 2003 Vol. 41 No. 03)
Reviewed by B.A.Thompson, Winthrop University
"In addition to being an insightful and fascinating biographical account, this book also provides analyses of many of Arnold's works along with important appendixes.  The book is, therefore, immediately appealing as a comprehensive source of information over a wide range of related topics.
Jackson ... explores both the friendship and the collaborations between Arnold and William Walton, and he discusses the role of Gordon Jacob as Arnold's principal composition teacher. Among many other relationships covered, Arnold's friendship with Gerard and Annetta Hoffnung is a special and heart-warming one. The "dark" of the subtitle is primarily related to Arnold's diagnosed schizophrenia, often exacerbated by acute alcoholism and severe bouts of depression. 
Three appendixes list composition and first-performance information, film music, and discography. A 16-page center section contains mostly photographs, but also includes two drawings and six score fragments-a total of 26 plates. Summing Up: Highly recommended. All readership levels. "

American Record Guide (March/April 2004)
Reviewed by Hecht
"Paul Jackson tells Arnold's story chronologically, intermixing biography with a considerable amount of musical analysis (except for the film music, which is treated in a separate chapter). His style is tightly drawn but conversational.  Some might object to his informality and occasional repetitiveness, but the book flows well and is difficult to put down.  He supplies plenty of detail, often probing deeply to fascinating effect, and he takes us into the darker aspects Arnold's life with devotion, respect, and regret. There is plenty of period information and gossip, too.  We learn of Arnold's friendship with William Walton, his stress in composing a clarinet concerto for Benny Goodman, his reverence for Thomas Beecham, his disapproval of Malcolm Sargent, his discomfort with Leonard Bernstein, etc. Jackson tells us a great deal, but with a character as fascinating as Malcolm Arnold, I wish he had told even more, including stories about Arnold's experiences playing in two major British orchestras.
... Jackson takes special delight in firing volleys at classical criticism and its attitude toward accessibility and crossing genres.  In this role, he is both a critic of critics and a mother hen fiercely defending Arnold's music. He names names, spares few, and turns some tough phrases ("an attempt at musical assassination" and "cloth-eared").
... Jackson's is the deepest, most detailed, most readable, and most interesting volume on Arnold and his music."

The Malcolm Arnold Society Newsletter
Reviewed by by Philip Wood
"Jackson's literary style is fluent, loose and at times chatty, and although there is much analytical study within the text, it never becomes dry or difficult to understand. The manner in which the book is written reminds me a little of Arnold's music; bright, good humoured and witty on the surface, but offset by a deep understanding and sometimes seriousness at the very heart of things. Both men have something worthwhile to say and the means with which to say it.
... The musical analysis is uncluttered, easy to follow and brimming with musical examples. Even if you know the music the analysis is helpful (or perhaps I should say) if you thought you knew the music. Jackson's in-depth research has, for me, proved the existence of ciphers in Arnold's music, most notably in the 5th and 7th symphonies and the John Field Fantasy.
... Whether you are interested in Arnold and his music or British music in general, you (like me) will find this book entertaining, absorbing and revealing."

Paul Serotsky
"If all you're after is a short, sharp recommendation, my advice is, "Go forth and buy! ...believe me when I insist that this is a very good book!'
Between the covers, in addition to the 218 pages of narrative, analysis and appraisal, there are 26 very fine plates, over 100 musical examples, and 3 substantial appendices. These last comprise a list of compositions by year (and including first performance details), a list of the films for which Arnold composed music, and a comprehensive list of recordings available since 1995 (including Arnold both as composer and conductor of other composers' works). There is also a full bibliography, which I suppose is a fourth appendix in all but name.
... in biographical terms he provides the most sharply resolved picture to date, whilst his analyses penetrate deeper into that connective realm than heretofore ...The result is arguably the most satisfyingly full and rounded view of Arnold available to us, no mean feat when you consider that Arnold is revealed as one of the most complicated subjects in the known universe.
... to my mind this book now takes pride of place as the best all-round reference on Sir Malcolm Arnold. In itself that should be recommendation enough for anyone interested in Arnold and his music (and, let's face it, that ought to be everyone with any interest at all in Music!), but it is much more than just that - it is also an intensely moving account of the composer's life, an account that more than once brought a lump to my throat (yes, me, a case-hardened Yorkshireman!). I'll tell you what, I can't wait for the film!"

Music Educators Journal
"... Jackson provides the reader with a thorough and deep understanding and appreciation of one of England's greatest composers and his compositions... Jackson's brilliant writing expresses the way that music that is reflective of a composer's life experiences often touches the soul and human spirit in the deepest ways. Jackson has gained for Arnold a new fan and advocate in this reader."